Today I present to you, my dear readers, a Q&A I had with two of the most followed and loved bloggers in this lovely little blogging world. I have to admit I've been following these two girls since I started my blog and only just recently found they were sisters. If your no stranger to fashion blogging I expect you've seen, heard or most likely followed one (or both) of the Suarez sisters before.

You know them as Natalie Off Duty and Nana in Wonderland.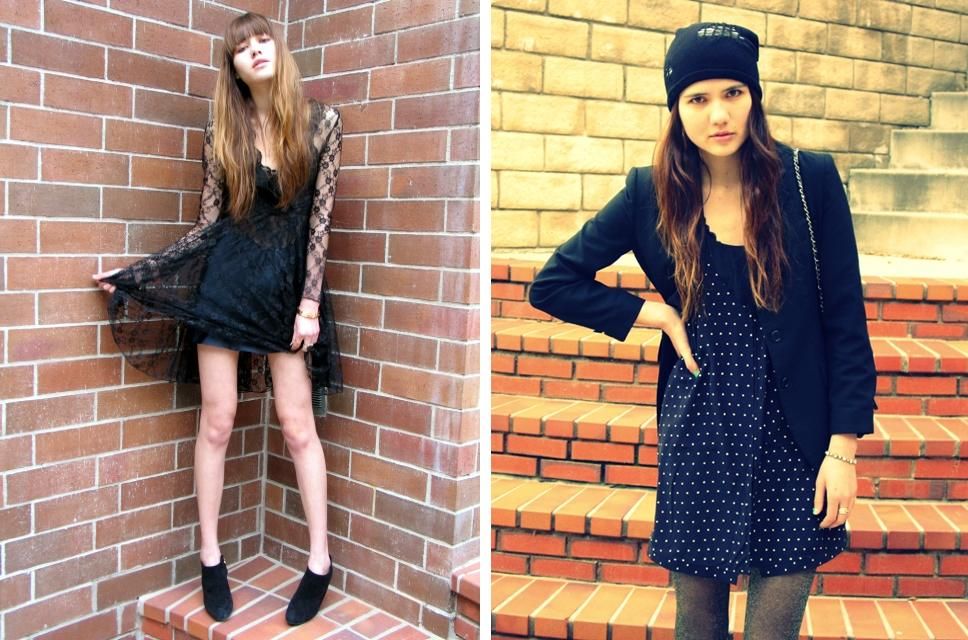 Name:
N: Natalie Suarez
D: Dylana Suarez

Age:
N:19
D: 22

From:
N: Los Angeles, CA
D: Los Angeles, CA

Blogs:
N: Natalie Off Duty
D: Nana In Wonderland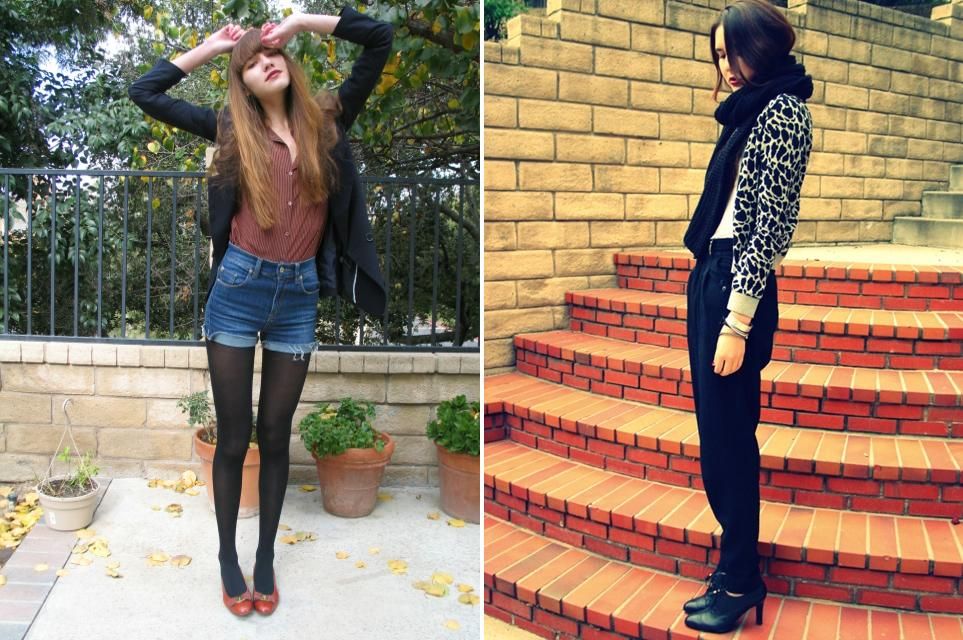 1. What got you into blogging?

N: It was my sister who showed me a few popular blogs and I was fascinated. I started looking at them a lot in my spare time. I've always been into putting together looks and so I started my blog to share my view on styles with others.

D: I first started blogging about 2 years ago, after I found so many young ladies out there were writing about everything from their personal style to fashion inspiration. I didn't share my personal style in the beginning; I just loved to write about fashion and everything about it. I was so inspired by other bloggers' fashion and views, and I wanted in on the fun, too! I love to write, and blogging was a way for me to express myself in a way that I never though I could. And showing off my outfits is a great way to get creative. There are no limits with blogging, and I love that the most!

2. How long have you been writing your blogs?

N: About 7 months now. I can't believe it's almost been a year!

D: I have been writing on blogspot for nearly 2 years, but my blog has undergone many changes since then, and I started fresh last October. That was when I really started to put my all into my blog because I found that I loved writing about fashion and I started to think about a career in the industry. It was a way for me to show my passion and reach many people while doing it. It has been a wonderfully rewarding experience so far.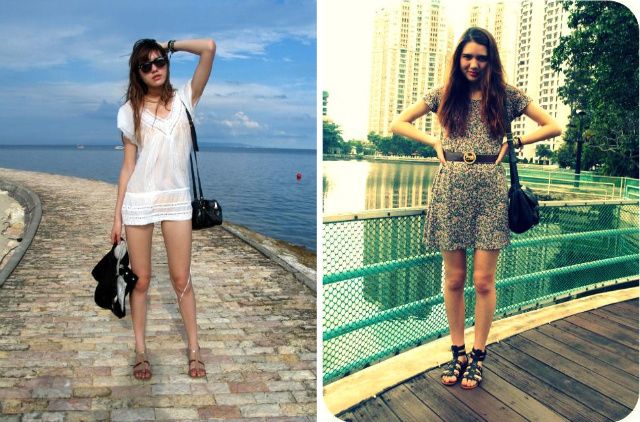 3. You girls have a lot of fans and followers, do you ever feel pressure to post consistently or is it always fun?

N: I try not to feel pressured. I post when I feel like it and I make it fun. All my readers are really cool and supportive. They really do keep me motivated to keep it up.

D: In the beginning, yes, I did feel the pressure to make my blog interesting to read and look at because I wanted to catch the interest of fellow bloggers. After all the good reception on the blog, and getting to know other bloggers more personally, I finally started to kick back and have fun with it. I started to post things for myself and for the love of it. I am really happy that my followers love it, too!

4. What do you do and what's in a normal day for you?

N:I work as a model, so I am always casting and working during the day. I'm love doing photo shoots and meeting really creative people. I love seeing the final result from a photo shoot. As for school, I graduated high school early so I covered quite a lot of college already. But I will be continuing online classes.

D: I just graduated from UCLA with a B.A. in American Literature and Culture. I also studied Biology for 2 years. I took the time after my graduation to travel, and right now I am working as an office/advertising assistant for a real estate agency. My days are filled with normal administration support and a lot of writing and brainstorming.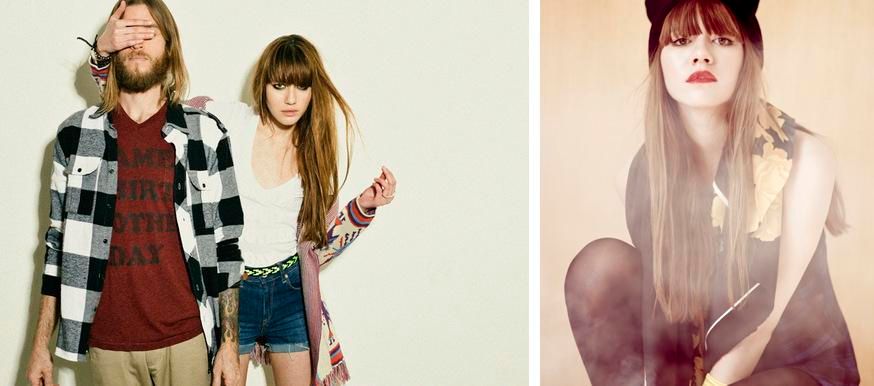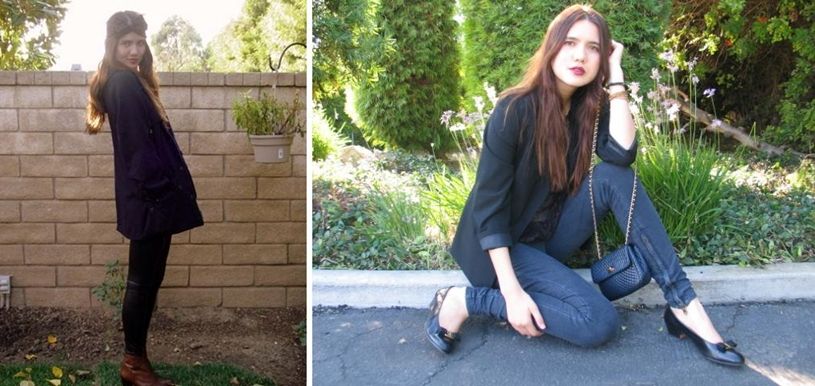 5. If you could live anywhere in the world where would it be?

N: I love Los Angeles so much, especially the weather. I'd love to be bi-coastal though. Los Angeles and New York would be ideal.

D: I would probably stay here in Southern California. The weather is beautiful here all year round, and I would never want to leave it! I like nature and country life and if I had to go anywhere else, I would probably want to live in Italy. I took a class in Italian at university and it is such a beautiful language and the country is stunning. And pizza is one of my favourite things in the world!

6. What are you looking forward to the most this summer?

N: More travels!

D:I am looking forward to the warm weather and being able to wear shorts every single day. Summer always brings back so many childhood memories, and I hope to relive them and travel some more!

7. What inspires you and who are your style icons?

N: I'm inspired by so much. People I see on the street, images in a magazine, models. It's hard to pick a style icon! I do adore the style of Dree Hemingway, Erin Wasson, and Jane Birkin (as well as her daughters Lou and Charlotte) a lot though!

D: I am inspired by so many things! Storybook characters, a fashion editorial, nature, street style blogs, an old photograph from the seventies. I am usually driven by shape and color when I get dressed, and my taste in fashion can change everyday depending on my mood. I love looking at pictures of models off duty because they look so chic and practical in their no-fail looks. I am always obsessing over the outfits of ladies like Kirsten Dunst, Dree Hemingway, and Alexa Chung, who mix casual with girly, classic pieces. I love timeless styles, and I think that nobody embodied that aesthetic more than Audrey Hepburn. She was perfection. But most of all, I am inspired by my fellow bloggers because they are so eclectic and love to experiment.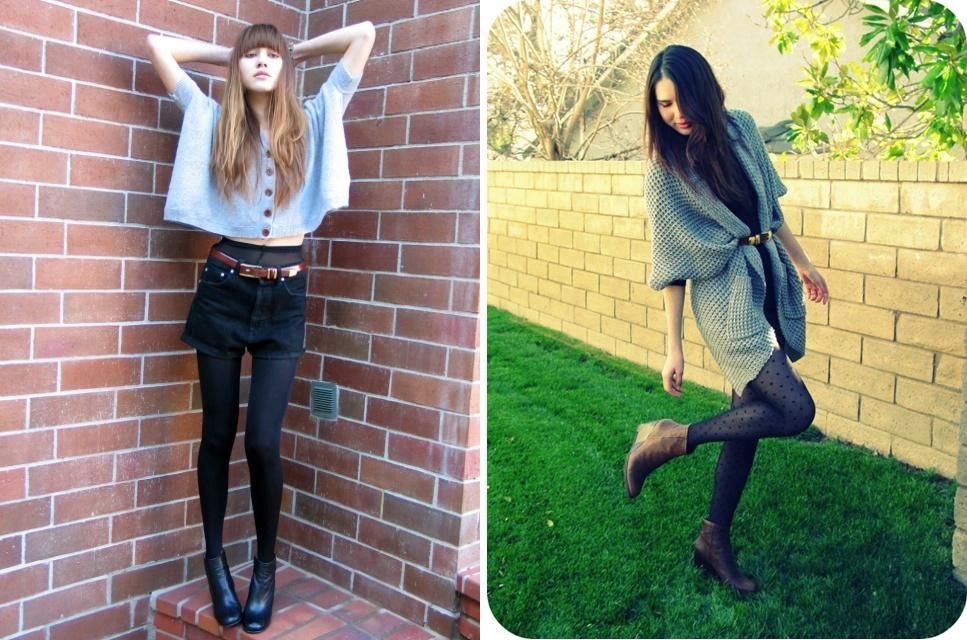 8. What's your (current) Favourite:

Nail colour?
N: Bright Red
D: Sea Green

Shoes?
N: Heeled Booties
D: My Stuart Weitzman wedges

Item of Clothing to wear?
N: A soft Tee
D: My black blazer and my combat boots. I can always rely on them!

Book?
N: I just finished "Eat Pray Love" by Elizabeth Gilbert. Reminds me so much of our travels in Asia. Everything she wrote about, I could relate to, because I saw it all in real life while travelling.
D: Sister Carrie by Theodore Drieser


Place to shop?
N: Anywhere that sells vintage or amazing one of a kind pieces.
D: Zara

Place to visit?
N: Kuala Lumpur, Malaysia
D: Southeast Asia

Food?
N: Indian Food
D: Indian Food

Film?
N: Pretty In Pink
D: The Breakfast Club


Favourite thing to do in your spare time?
N: Watching Movies with friends
D: Read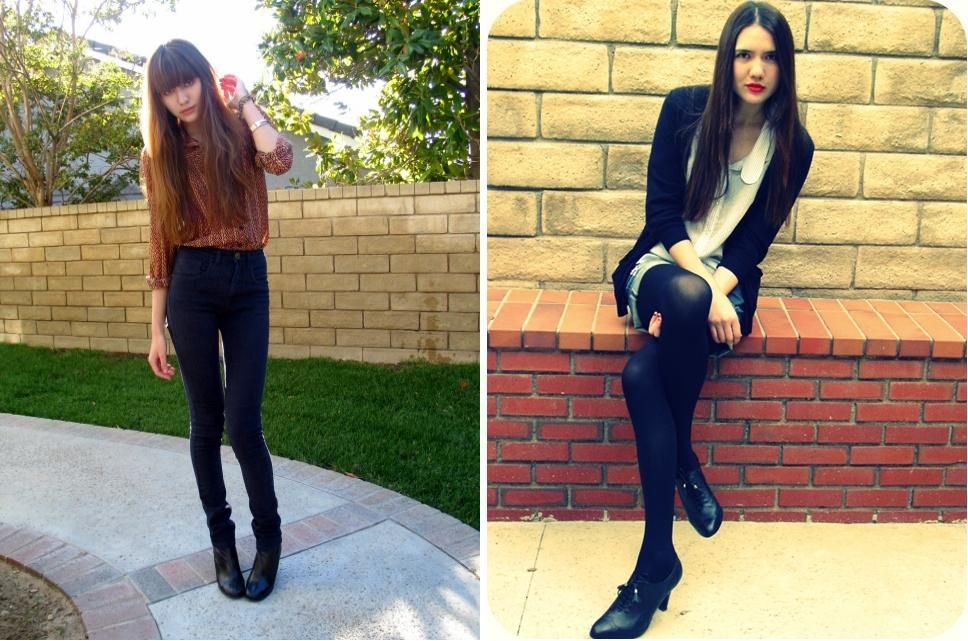 9.Have you ever been recognised or stopped by a Fan of your blog?

N: Yes, at a shopping center in LA. Didn't know until the person wrote us afterwards!

D: I have been recognized before, but never approached. A fellow blogger once saw my sister and I shopping and commented us afterward that she saw us, but we were gone before she could say hello!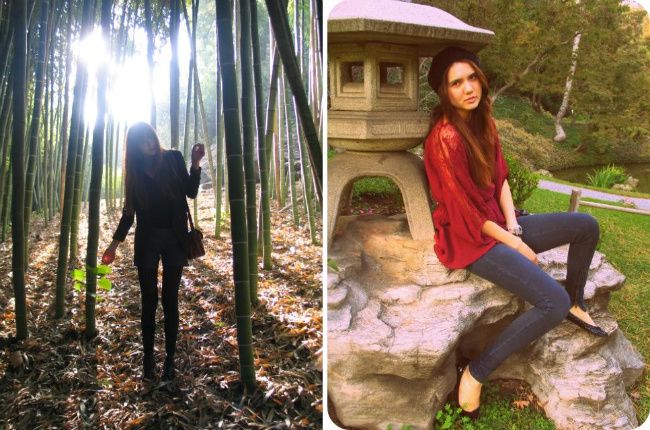 10. Tell us the meaning or reason behind your blog name?

N: I wanted a name that revolved around modelling and style. I was thinking of Model Off Duty but decided I would use my name instead and ended up with Natalie Off Duty. It was prefect and so I stuck with it. Natalie Off Duty revolves are my view on fashion and what I like to wear out, when I'm "off duty."

D: My blog has undergone three name changes since I started. Right now it is called Nana in Wonderland. I wanted my blog title to be a true reflection of my personality. Nana was m nickname when I was little and it always stuck. I called it Nana in Wonderland because I do not want my blog to be defined by where I live, or what I do. Every since I was little, I was always writing my own stories and imagining my own characters and adventures. I basically lived in a wonderland, and I see the world in the same way. I love to travel and I am always dreaming up the next place I want to visit. My head is filled with creativity and I love that fashion is made up of so many creative dimensions, and I love that I can express this through my blog.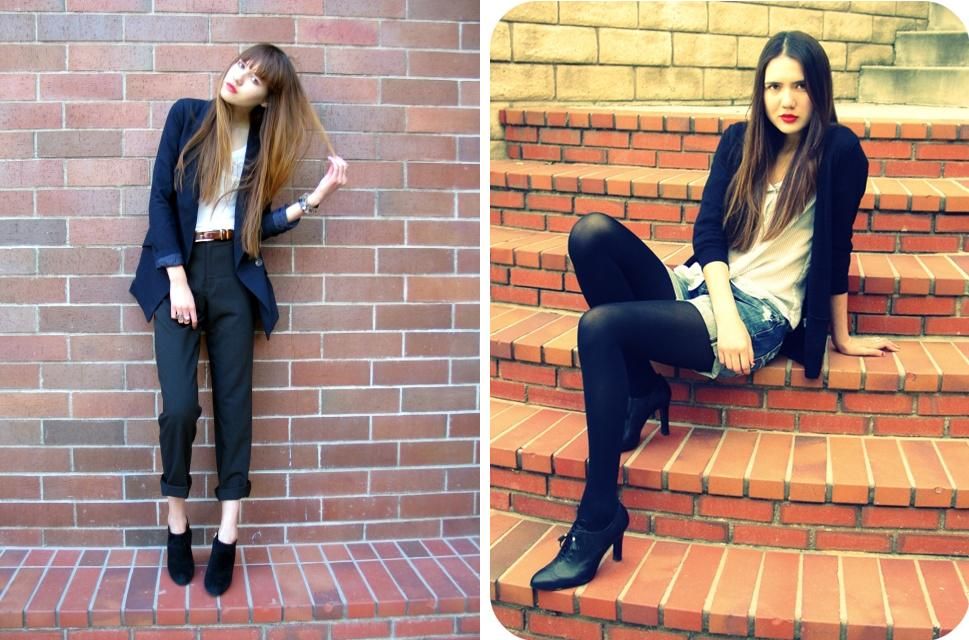 Big Thanks to Natalie and Dylana for being fun, enthusiastic and as always very lovely to talk to.
Hope you liked this one because I certainly did!