wearing: 90s vintage top, vintage Edwin shorts, vintage belt and cardi -dotti
Me and Luke went to see Iron Man 2 on the weekend ( i loved the first one and thought the second one was good but had some terribly corny and other the top moments - anyone else seen it?)
I bought this top the other day and it reminded me of the types of clothes my mum wore in the early 90s. I really like this as a comfy casual outfit to wear (minimal jewellery, brown eye makeup, denim -of course- and mis-matched belt/boots/bag haha) very 90s in my eyes. Also for me its a very -shudder- "sexy" look because i don't usually like to wear tights tops.
I've come down with a fever today (fashion week of all times to get sick!!!) so just a little post.
Below i've included one of my favourite shots from the photo shoot i did with Lucia Pang. I will be post a lot more eventually but this is just a sneak peak. This week i will also be posting a DIY Miu Miu collar that i've been working on (i love it!) and a GIVEAWAY!!! How exciting
Till then lovelies.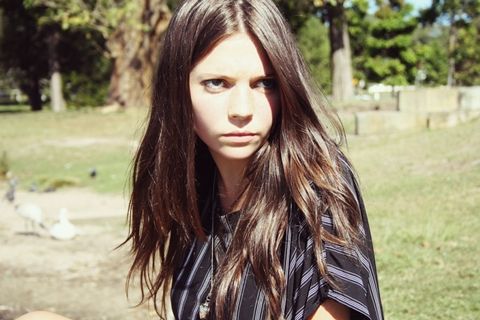 emma