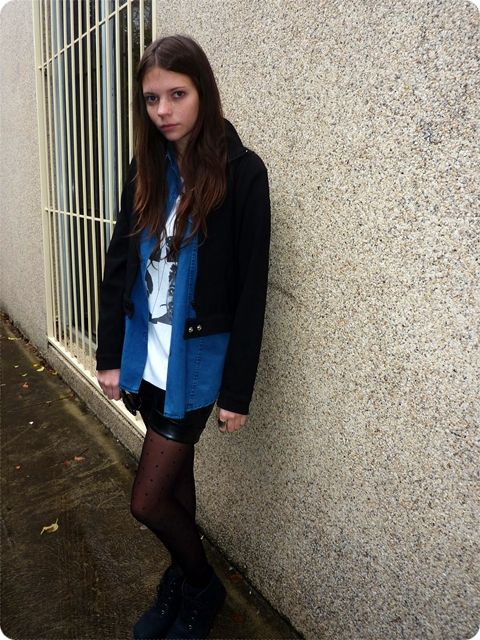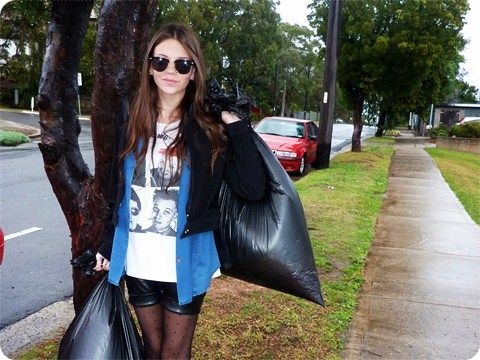 wearing: vintage black jacket, witchery denim vest, vintage 'young ones' tee, DIY leather shorts, stockings -ebay, vintage leather backpack and 'comfort' boots -BigW =)

MY LAPTOP IS BACK!
Little too excited
but i'm so glad i'll have it for tomorrow and i can get all this weeks vintage items online by tomorrow night
Now to what i did today.
No i am not taking out the trash! These bags are full of vintage bags, coats, tops and dresses! So many amazing bags i found today. I am using all my will power not to hide them in my cupboard and keep them for myself.
So what i wore today was a bit more grunge rock than normally. It was pouring down rain all day so thought i'd wear my 'comfort' boots, my DIY leather shorts and this witchery denim vest that is an amazing blue (can't wait to wear it in bali when its hot!!!)
Also note my young ones tee that helps with the whole 'grunge teen angst' look.
Oh and also to all those who say 'why don't you ever smile?' here's me smiling.
I just don't like my smile when it's forced and would rather capture a natural smile or not at all.
Comprende?
=)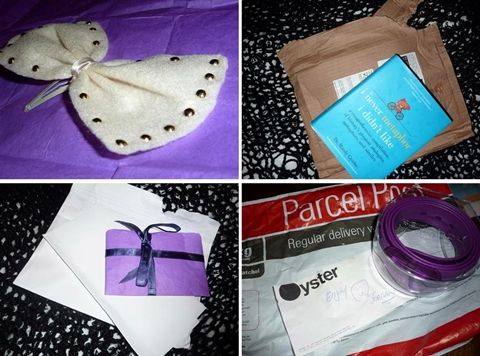 I am in an excellent mood because i have received THREE packages this week!!!
The first was a book i ordered from the UK that i've been wanting for two years.
The next is an amazing studded handmade bow that was sent to me from lovely lovely lady Jasmine from blog
fizzle out
(it brightened my day and can't wait to wear it when the sun comes out again).
And lastly (as i said on twitter) i won a genuine fedaboa belt from oyster magazine!
Bright purple and awesome! I have to cut it to fit so i hope i don't stuff up
emma