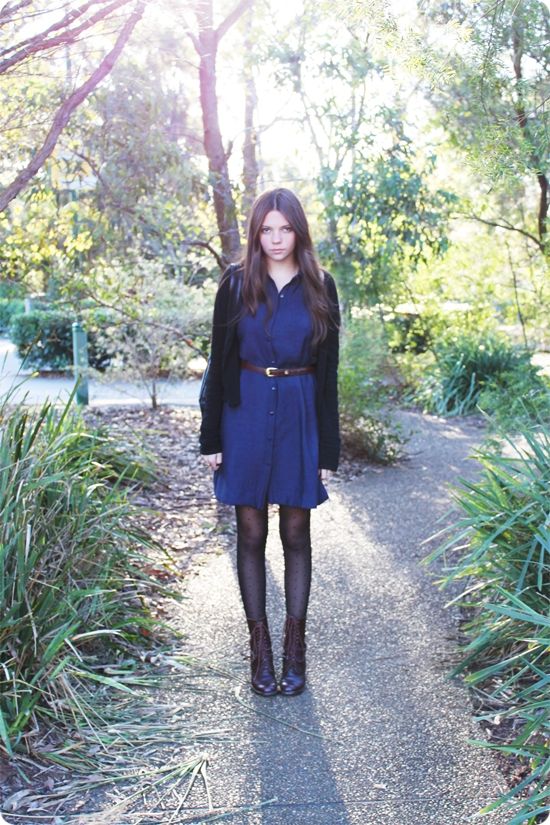 Taking inspiration from the Beatles record of the same name, Secret
Squirrel present their AW10 collection, The White Album
This dress is one of the amazing pieces in The White Album collection inspired by fashion from the 60s. "The range incorporates a soft nostalgic femininity, with demure pleated knee length skirts and schoolgirl style collared pinafores that button up to the neck."

I am a huge fan of secret squirrel because "Vintage fashions are a key inspiration for the label" and as you know I'm a little 'vintage crazy'. Since the labels inception, Secret Squirrel has experienced a swift rise to cult fashion fame – featuring in Vogue, Harpers Bazaar, Marie Claire, Russh, Yen and Frankie just to name a few.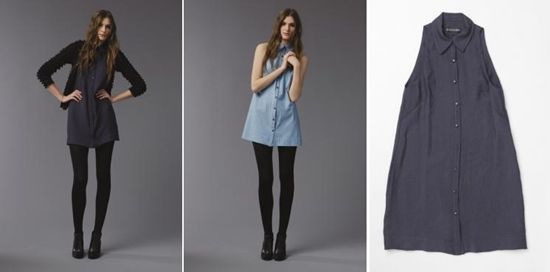 Item type: Dress – Honey Pie Dress

Material: viscose/rayon

Colour: Midnight (also available in Chambray)

Description:
This dress takes the neckline of the season (Peter Pan collar made popular by Alexa Chung) and make it it's own with buttons all the way down the front. Sleeveless and short pinafore style.
One of the things I love about chambray and denim material is that it fades with wear so I can't wait to see how this design evolves.


Feeling when wearing: When I wore this outfit to a fancy lunch I felt like a lovely well-behaved girl but when worn out at night I felt like a rock star in my dress paired with platform boots.

Best climate: One of the things I love about this dress is it can be worn in both hot and cold climates. It can be worn with stockings, some classic leather boots, belt and a lovely vintage coat in winter but also a breezy and edgy substitute in summer! This dress is easily be dress up or dressed down.

Where to wear: I love navy dresses because they are so versatile but this dress exceeds expectations. As said above it can be dressed up with classic heels or can be dressed down when paired with grunge boots.

Faults: When I wore my dress with tights the fabric on the inside of the hem started to form tiny fabric balls but frankly that doesn't matter to me at all since its on the inside of the dress and it was mostly my tights fault. No other faults at all, very happy =)

Tips: Buttons up for well behaved during the day and buttons down for play =)

Price: This design has recently been reduced from $204 to $144.30 in the secret squirrel online store! Just in time to wear through the rest of winter and will be perfect for spring (I can't wait to wear mine when I'm in Indonesia in the hot weather!)

Website: http://secretsquirrellabel.com/
Store: HERE



Thoughts:
I think the thing I love most about this dress is that it can be worn as both a classic design but can been worn in a party atmosphere with chunky boots and a grunge belt too.

Secret squirrel has definitely captured what they believe about clothes in this design, "Clothes that are simple and elegant without necessarily looking 'simple and elegant".
Big thank you to Andrew and the Secret Squirrel Team!!!
Product Review by Emma Lucey for The Spin Dizzy Fall Blog