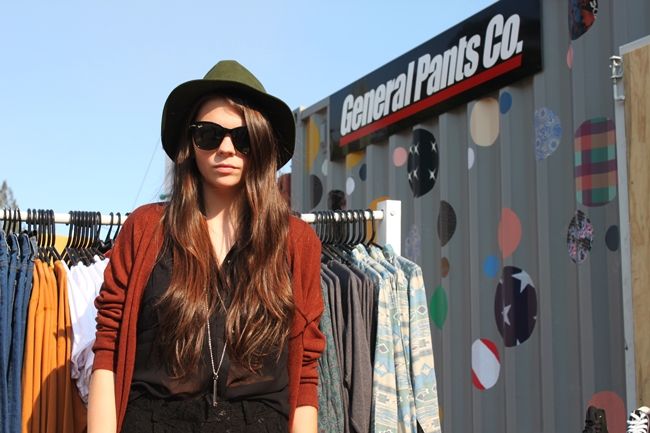 Me and Luke travelled up to Woodfordia to 'Splendour' thinking we would be taking style snaps of funky festival goers. However our actual brief turned out to be so much more fun!
Basically we were given a few tasks each day and had to try and capture the general vibe of the festival by taking some style snaps but also by taking photos that I would normally take as a blogger anyway! Photos of outfits, of bands, of crowds, of cool things/people we saw and the most important photos of all, that a fashion blog cannot live without... food! (I kid! But seriously..yum)
On the first day (thursday; the unofficial start of Splendour) I styled six outfits, 3 for girls and 3 for guys, from the General Pants pop-up store. I tried to create completely different looks for each and of course for different weather conditions. My favourite outfit was actually the last one with the black shorts, the knit and the gumboots (simple but I am in love with the subtle print on the shorts and the gold in the knit).
Oh and if you haven't seen him before on here, this is Luke. Luke has been taking my photos pretty much since we got together years ago so how could I not take him to Splendour with me!

Below are some more photos from the first day. The picks from the General Pants Pop-up store staff (Bec, Willa and Tobi), a few stylish strangers and lunch!
More Splendour to come! Also you can check out the photos posted on the General Pants facebook page
here
or the Spin Dizzy Fall facebook page
here
.
emma