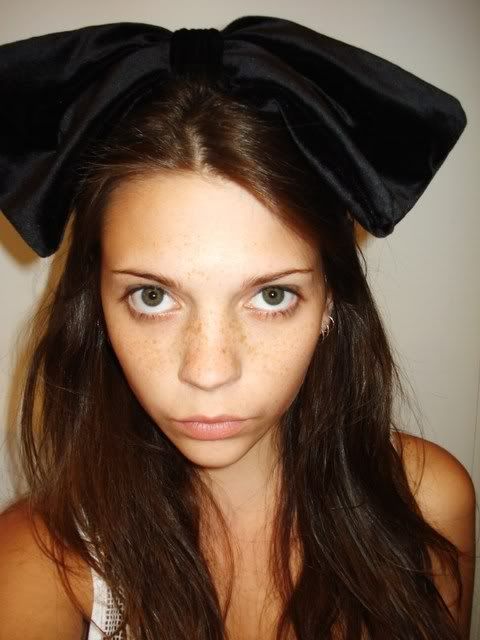 If you've read older posts you will remember i decided to make the 'floppy bow' that recently hit American apparel.
Well I've finished and it was easier than i expected!
And if i do say so myself i think it looks quite similar to the one in stores (though i think mine is a touch smaller and needs to be ironed flat on the ends.) What do you think?
By a lovely coincidence my mum gave me an old velvet dress that she didn't want any more and i cut off the bottom and made this bow and converted it into a mini dress. Can't wait to wear it in autumn but meanwhile I'll be rockin' this little baby!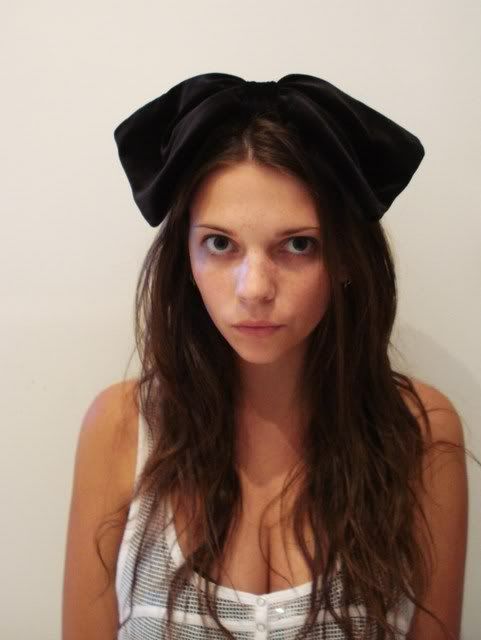 Do it Yourself!
As you can see in the photos below all i did was:
Sewed a rectangle shape on the machine then turned it inside out (or outside out)

I then made an extra strip of velvet about an inch wide to wrap around the middle

I didn't want to sew the strip onto the rectangle bow part so i can move and manipulate it when im wearing it. All i did was sew the two ends of the strip together tight around the bow

i then slipped it onto a bought headband.
i was also going to cover the headband in velvet but ended up not doing so.
If you wanted your bow a bit stiffer you can always put some iron-on interfacing on the inside before sewing it up.

Price on AA=$42
My DIY price= $2.50 (for the headband)