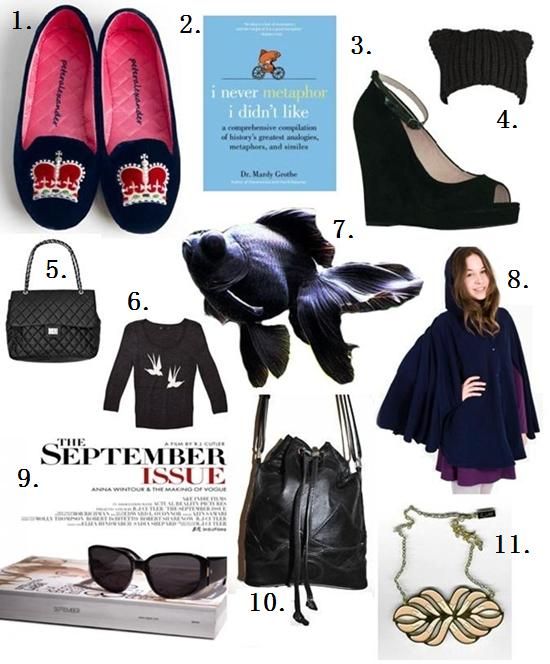 I've remembered that i have some nice holidays later in the year and i really need to stop spending and start saving more. I made a list of things i'd really LOVE to buy and most of them are actually really affordable (really surprising and so im glad!). So here's another list for buyers on a budget!
1. Peter Alexander slippers ( i love these and really want them!)
2. 'I never metaphor i didn't like' book.
3. Lolo Wedges by RMK (the most expensive thing on the list but i cannot stop thinking about them.)
4. Square beanie from general pants ( going to make this one)
5. Large quilted bag from dotti
6. I want a sweater with a knitted print on the front (this ones from dotti - under $50)
7. A black fishy to go in my empty wall fish bowl. (for good karma and water for feng shui)
9. 'The september issue' (who has seen this? is it good?)
10. Pull string Leather bag with long strap (from twocoathangers vintage store)
11. Leaflet necklace from d_luxe (so lovely)
Also Gem from Fade To Black has made her self designed clutch in blue and i love it!!!! (pictured below)
I also want easter eggs!!! YUM