I wore: Vintage hat, Cropped singlet - bali, skirt - pencil, favourite boots, cherry black lipstick - BYS, nails - mauve in on up, sunnies - paddy's and vintage bag - op shopped.



Did a major vintage shop today with some Lovely but tiring results. Glad the weekend is here and can't wait to just relax. It was HOT today (surprise surprise) so i wore a cropped singlet and my big fur wool hat.
A couple people have asked me if they could see me smile so I've included a photo below of me sitting in a giant teddy bears crotch wearing a cheesy smile. Honestly one of the biggest stuffed toys I've ever seen, so funny! I look like a 5 year old playing with the toys.
HURRAH i finally found some oxfords and wow are they perfect for me. I actually bought them for my sister cause they are a 5 and thought they wouldn't fit but who wouldn't squeeze their size 6s into these 5s! They are vintage but have hardly any wear and they even have a nice heel.
Happy!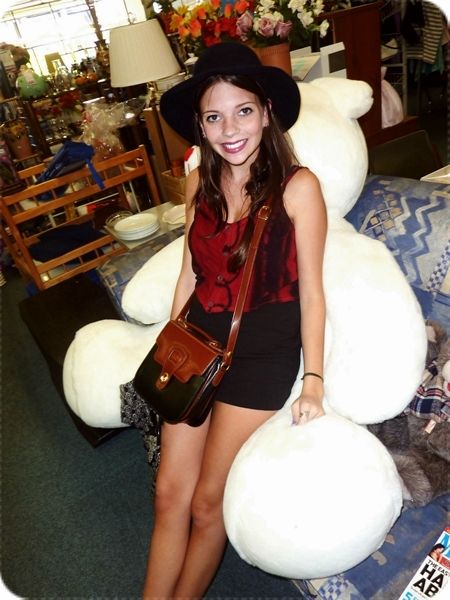 emma