Material: Bronze base, gold plated with enamel inlays Chain - Nickel chain, 24ct gold plated, 40cm long

Colour: 'vanilla and cream' with gold chain and detail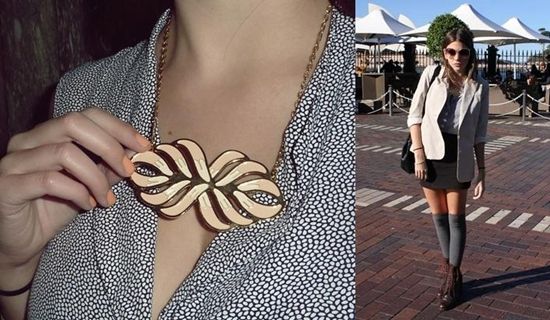 Worn by me during Sydney Fashion week with a vintage blouse and nude Lisa Ho blazer


Description: This beautiful piece sits just below the collar bone and delicately frames your neck. The combination of the bold leaflet and the thin delicate chain compliment each other perfectly. The soft nude colour brings a soft touch to my winter wardrobe and will be perfect for when spring brings in lovely soft pastel colours.

Feeling when wearing: This design is inspired by the shapes of 70s jewellery and since I am very influenced by vintage 70s fashion I love to make this necklace the feature of my outfit (little harder in winter with all the layers!) and it does a great job of making me feel special.

Features: Apart from the leaflet itself I love how d_luxe necklace designs feature the d_luxe charm next to the clasp at the back

Best climate: Any but I prefer a sunny day so I don't risk covering it up with bulky knits.


Where to wear: No limits to this baby. It can dress up any outfit.
Would look great with: I would love to wear this with a plain black singlet maxi dress next. It Would also look amazing with a strapless white lace dress for a more formal look.

Price: This amazing leaflet is currently on sale on the d_luxe website for $60 PLUS d_luxe is offering all spin dizzy fall readers a discount of $10USD when you enter the code word SPINLEAFLET at checkout! That's only $50!
d_luxe is also offering 20% off the order subtotal of any online purchase with the code word SPIN 20! How sweet =)
Website/Store:
http://www.d-luxe.co.nz/