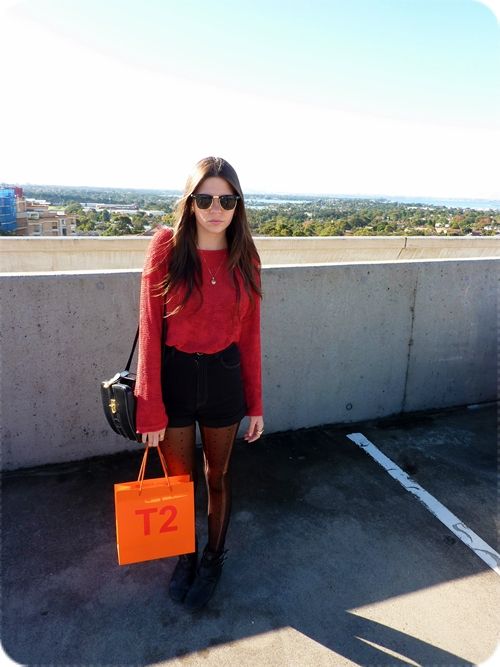 Today i went camera searching. No luck but my view has change and then changed back again. Also I've had so many people telling me to get a Nikon right after i decided i want to get a canon! When will this end!!!! I really don't want to regret my decision.
I came home with no camera but with a new tea purchase from T2! ( i swear i did not ask for a bag to match my outfit)
I was almost set on buying 'sydney breakfast' but we tried some of the teas they had set out. Instantly, I thought the choc chip chai was divine so bought a box and a little T2 tin for it to live in. I was then told that the tea we tried was made with vanilla soy milk (So i bought some of that too).
I think i will have to perfect the mixture because it did taste more 'chocolatey' in store. Hmm sneaky T2, sneaky.
What i WAS happy with was the lovely pistachio macaroon i bought (from a french man who used gloves to pick it up and hand it to me). Cheap = no, Yummy = YES!
wearing: light knit sweater - thrifted, shorts - lucky 13, stockings - ebay, necklace - gift from friends and vintage handbag.
I always wear simple outfits to shop in because i feel more comfortable. Will usually include my shorts, a medium-large bag, stockings (these ones will not stop ripping. They are going nuts!), flat shoes and a baggy top.
emma